EXTRA LARGE BEDS FOR SLEEP AND LIFE
Beautifully Designed To Maximize Space, Luxury and Comfort
Need help with your purchase?
We understand that buying a mattress online isn't for everyone. That is why we are here to help answer any questions you may have. Schedule a call with one of our specialists by going to our Contact Us page.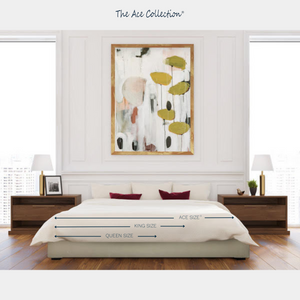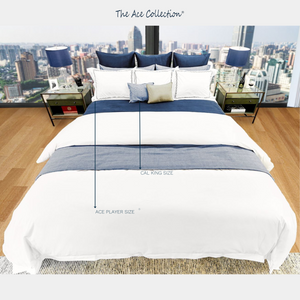 How Did The Ace Collection® Come To Be?
There is no one-size-fits-all when it comes to mattresses, yet the market has its limitations. That's where The Ace Collection® comes in, offering a unique custom mattress solution.

Founder, Ana, spent the past two decades as a high-end luxury interior designer and was often frustrated by clients' requests for extra-large mattresses. Whether they were looking for greater comfort or just the ability to accommodate their brood for movie night, clients wanted options larger than "King," and Ana saw a growing demand that was largely ignored.

Inspired by her strong design experience and having direct access to first-rate manufacturers, in the summer of 2017, Ana created a collection to bring the extra-large mattresses to life.

When looking at a California King size bed, she noticed that it fits two 36" wide king-size pillows; therefore, the next size up should naturally fit three, and then the next should fit four pillows. From there, the Ace Size® (108" wide x 80" long) and Ace Family Size® (144" wide x 80" long) mattresses were born.

The next challenge was the length of the bed. A standard US door height is only 80" high, and The Ace Collection® needed to ensure that the mattresses pass through standard door frames. For athletes and other taller clients, Ana created the Ace Player Size® (80" wide x 108" long), which is the Ace Size® (108" wide x 80" long) rotated 90 degrees.

The Ace Collection®, however, is not just mattresses but a luxury brand that also offers an entire line of well-crafted bed accessories. From high-quailty headboards and bases to the finest sheets, blankets and duvets. The Ace Collection® offers everything to help you create the custom designer bed of your dreams.
FREE SHIPPING
WITH A PURCHASE OF A REGULAR, PILLOW TOP, OR PREMIUM MATTRESS (*restrictions apply)